The 19th Annual Patient Safety Congress - Keynote Speaker Series
The only meeting with a global reach and a singular focus on patient safety!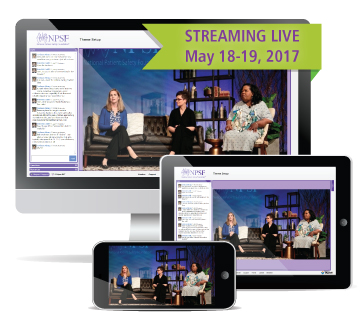 As the only conference dedicated solely to patient safety, the NPSF Annual Congress is a unique opportunity for practitioners, leaders, and experts around the world to come together and share their knowledge.
The 2017 NPSF Patient Safety Congress is pleased to announce the continuing education opportunities at this event.
Who Should Attend
Patient safety, quality, and risk professionals
Hospital executives and board members
Frontline clinicians, including nurses, physicians, and pharmacists
Patient advocates, payors, researchers, and policy setters

All those dedicated to patient safety —
Across the continuum | Across all ages | Across all specialties
Speakers Include:
Donald M. Berwick, MD, MPP, FRCP is former Administrator of the Centers for Medicare and Medicaid Services (CMS) under President Obama (2010-2011) and is president emeritus and senior fellow at the Institute for Healthcare Improvement (IHI), which he co-founded and led for 18 years. Dr. Berwick was a founding member of the NPSF Lucian Leape Institute. He has served on the faculties of the Harvard Medical School and the Harvard School of Public Health, and is an elected member of the National Academy of Medicine. His numerous awards include the 2007 William B. Graham Prize for Health Services Research and the 2007 Heinz Award for Public Policy. In 2005, he was appointed Honorary Knight Commander of the British Empire by Queen Elizabeth II. He has authored or co-authored over 160 scientific articles and six books.
Zubin Damania, MD is an internist and founder of Turntable Health, an innovative health care startup that was part of an ambitious urban revitalization movement in Las Vegas spearheaded by Zappos.com CEO Tony Hsieh. During a decade-long hospitalist career at Stanford University Medical Center, Dr. Damania won clinical teaching awards while simultaneously maintaining a shadow career performing stand-up comedy for medical audiences worldwide. His videos, created under the pseudonym ZDoggMD, have gone epidemically viral with over 160 million views on Facebook and YouTube, educating patients and providers while mercilessly satirizing our dysfunctional health care system.
Helen Haskell, MA is president of the nonprofit patient organizations Mothers Against Medical Error and Consumers Advancing Patient Safety. Since the medical error death of her young son Lewis in 2000, Helen has devoted herself to health care safety and quality advocacy in a variety of fields including diagnostic error reduction, disclosure of errors and adverse events, rapid response, and infection prevention, among others. She serves on boards and committees for national and international organizations including the Institute for Healthcare Improvement, the National Patient Safety Foundation, the World Health Organization, and the Accreditation Council for Graduate Medical Education. She is author and co-author of numerous articles and patient educational materials on patient safety and quality, including a recent co-edited textbook on patient narrative and interprofessional competencies. Her son's story has been featured in educational programs and videos including Transparent Health's Lewis Blackman Story, shown in hospitals and medical and nursing schools across the country.
Martin Hatlie, JD is president and CEO for Project Patient Care (PPC), the Chicagoland safety and quality improvement coalition, which is dedicated to using the voice of the patient to improve care. He also serves as director of the MedStar Institute for Quality and Safety, which integrates open and honest communication strategies, claims management, patient and family engagement, and high-reliability organization principles into quality and safety improvement. He is active in federal health system transformation work as a consultant on several projects funded by CMS (Centers for Medicare and Medicaid Services), the Agency for Healthcare Research and Quality (AHRQ), and the Patient Centered Outcomes Research Institute (PCORI). Hatlie is a former litigator, with a background in medical liability defense work early in his career. In the 1980s and early 90s Hatlie was a lobbyist for the American Medical Association (AMA) focused on tort reform. He coordinated the AMA's launch of the National Patient Safety Foundation in 1997 and served as its founding executive director from 1997 to 1999.
Linda K. Kenney is executive director and president of MITSS (Medically Induced Trauma Support Services, Inc.). She founded the organization in 2002 as the result of a personal experience with a near-fatal medical event. Since then, she has been at the forefront of the patient safety movement, inspiring organizations to tackle the challenges impairing effective disclosure, apology, and support programs for patients, families, clinicians, and staff. She speaks regularly at health care conferences and forums, provides in-depth consultations to hospitals and other organizations, and her expertise has been sought on numerous patient safety projects throughout the country and around the globe. Linda has received an HRET/AHA Patient Safety Leadership Fellowship and the National Patient Safety Foundation's esteemed Socius Award She serves on the board of the Massachusetts Coalition for the Prevention of Medical Errors, Collaborative for Accountability, the National Patient Safety Foundation Board of Advisors, the Board of Advisors for the Betsy Lehman Center, Massachusetts Alliance for Communication and Resolution following Medical Errors, and the Accreditation Committee for the Society for Simulation in Healthcare.
Christopher P. Landrigan, MD, MPH is an associate professor of medicine and pediatrics at Harvard Medical School; associate physician in the Division of Sleep and Circadian Disorders at Brigham and Women's Hospital; Research and Fellowship Director for Inpatient Pediatrics Services at Boston Children's Hospital; and is a practicing pediatric hospitalist. Dr. Landrigan has led major studies on the epidemiology of medical errors and adverse events, and interventions designed to reduce their incidence. His most important work has been focused on developing reliable patient safety measurement tools and improving the organization of residency programs and academic medical centers. His work on the relationship between resident work hours, sleep, and patient safety contributed to national changes in resident work hour standards. More recently, he led the development of I-PASS, a multi-faceted teamwork and handoff improvement program. In addition, Chris was the founding chair and is currently an executive council member of the Pediatric Research in Inpatient Settings (PRIS) Network, a collaboration of over 100 pediatric hospitals, which has conducted a series of major multi-center research and improvement projects in pediatric hospitals. He has authored over 100 publications in the medical literature.
Steve Littlejohn, MA, MBA is a 40-year communications and public affairs veteran with more than 25 years of experience in health care. Currently president of Climb the Curve Communications, he held leadership roles at Mallinckrodt, Express Scripts, and Fleishman-Hillard Communications and previously worked at DuPont, Gulf Oil, and Monsanto. Littlejohn played a key role in the formation of the National Patient Safety Foundation (NPSF), serving on the inaugural board and chairing the communications committee. He now serves as a member of the NPSF board of advisors. He earned a BA in history from Harvard University, an MA in history from Cambridge University, and an MBA from the University of Pittsburgh. He is the author of "Competition and Cooperation: New Trends in Corporate Public Issue Identification and Resolution" (California Management Review), Medical Error and Patient Safety: Communicating with the Media (The Patient Safety Handbook) and a co-author of "Innovation on Trial: Punitive Damages Versus New Products" (Science).
Albert W. Wu, MD, MPH is Professor of Health Policy and Management at the Johns Hopkins University Bloomberg School of Public Health, with joint appointments in epidemiology, international health, medicine, surgery, and the Carey Business School. He is director of the Center for Health Services and Outcomes Research, and of the PhD Program in Health Services Research. Dr. Wu developed several of the most widely used patient reported outcome (PRO) measures in HIV, founded the Outcomes Committee of the NIH AIDS Clinical Trials Group, and led PRO measurement for the National Eye Institute's SOCA Research Network. He has been instrumental in developing a broad array of programs and tools, nationally and internationally, for improved quality and patient safety. He is currently a member of the National Quality Forum Patient Safety Measures Permanent committee. He has published over 385 peer-reviewed papers with an Impact Factor of 93. He teaches a series of courses at Johns Hopkins on health outcomes, quality of care, comparative effectiveness and patient safety and has 25 years of experience as a practicing internist and HIV physician at the Johns Hopkins Hospital.